BIPV COLORED SOLAR ROOF AND SOLAR FACADE - A SUSTAINABLE REVOLUTION
SOLAR ROOFS AND SOLAR FACADES
Danish solar energy releases the world's most efficient selection of colored solar modules. This ingenious technology is especially interesting for the building industry, where solar energy can be integrated 100% in the building so that roofs and facades in practice become energy producing. But the technology can also be used in many other sectors, such as the automotive industry, advertising, electronic devices, etc.
Our vision
Is to provide high quality products that are highly effective, aesthetic, beautiful and affordable. The colored solar technology has many applications, and can be used for many other technologies or combined.
CONTACT US i > p> b>
THE SUSTAINABLE BUILDING INDUSTRY
These solar modules are our main product. In the future, all houses will be energy producers, being able to cover its own energy consumption is now a high priority reality, with this new solution we replace roofs and facades with a beautiful power plant that generates electricity. In the future, this technology will be used wherever there is a need for electricity.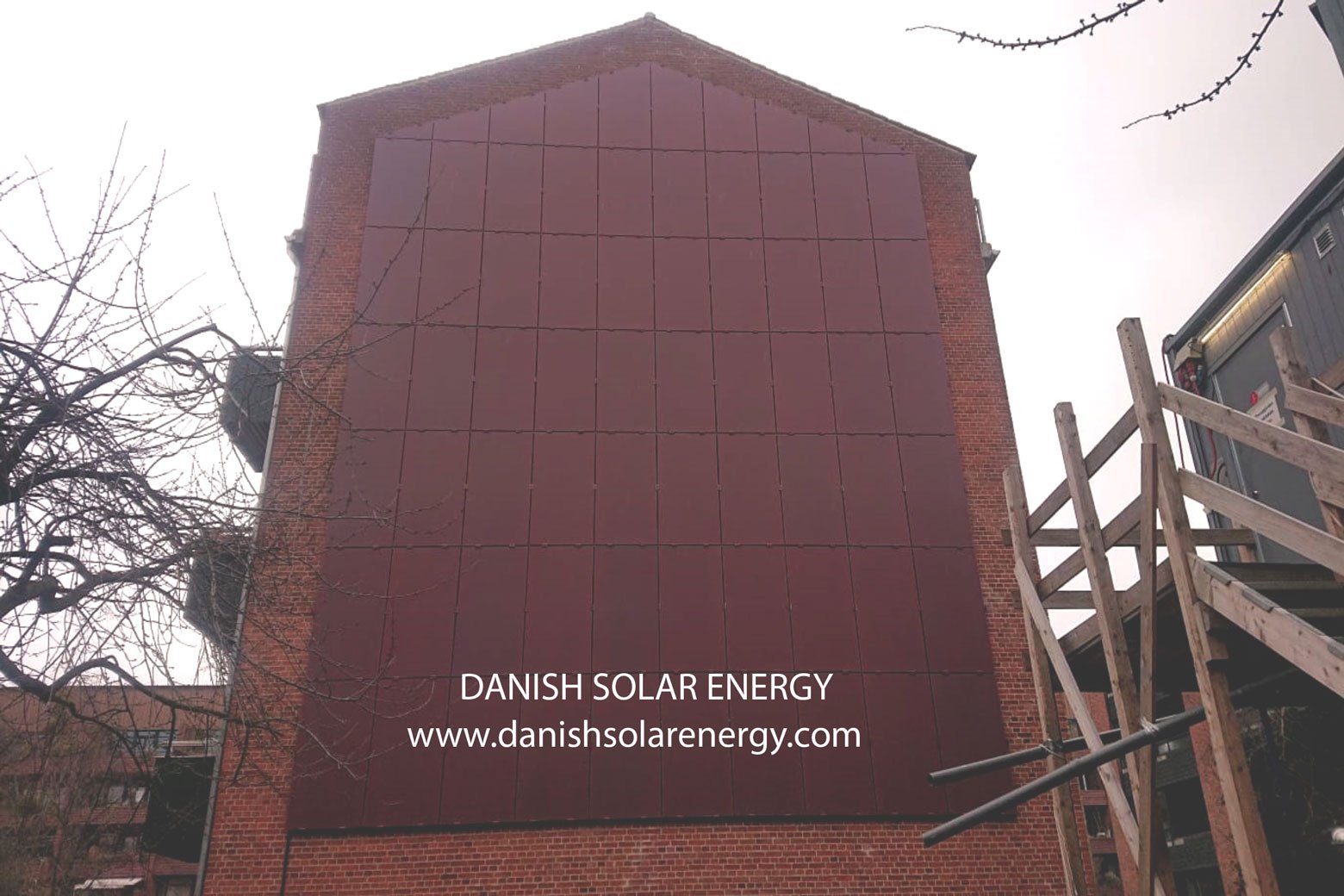 THE FIRST SOLAR FACADE AT A LISTED BUILDING iN COPENHAGEN.
A beautiful facade solution with red high-efficiency CFR solar cells in one of Copenhagen's many red stone properties. The first first red solar cell facade solution in Copenhagen, and probably the first in the world. The facade can produce approx. 13,000 kWt pr. year. climate-friendly energy and at the same time insulate the façade by shielding the façade from wind cooling. This project shows how Dansk Solenergi's new CFR technology can be integrated into all surfaces, without damaging the building's architecture.

SEE YOUTUBE VIDEO i > p> b>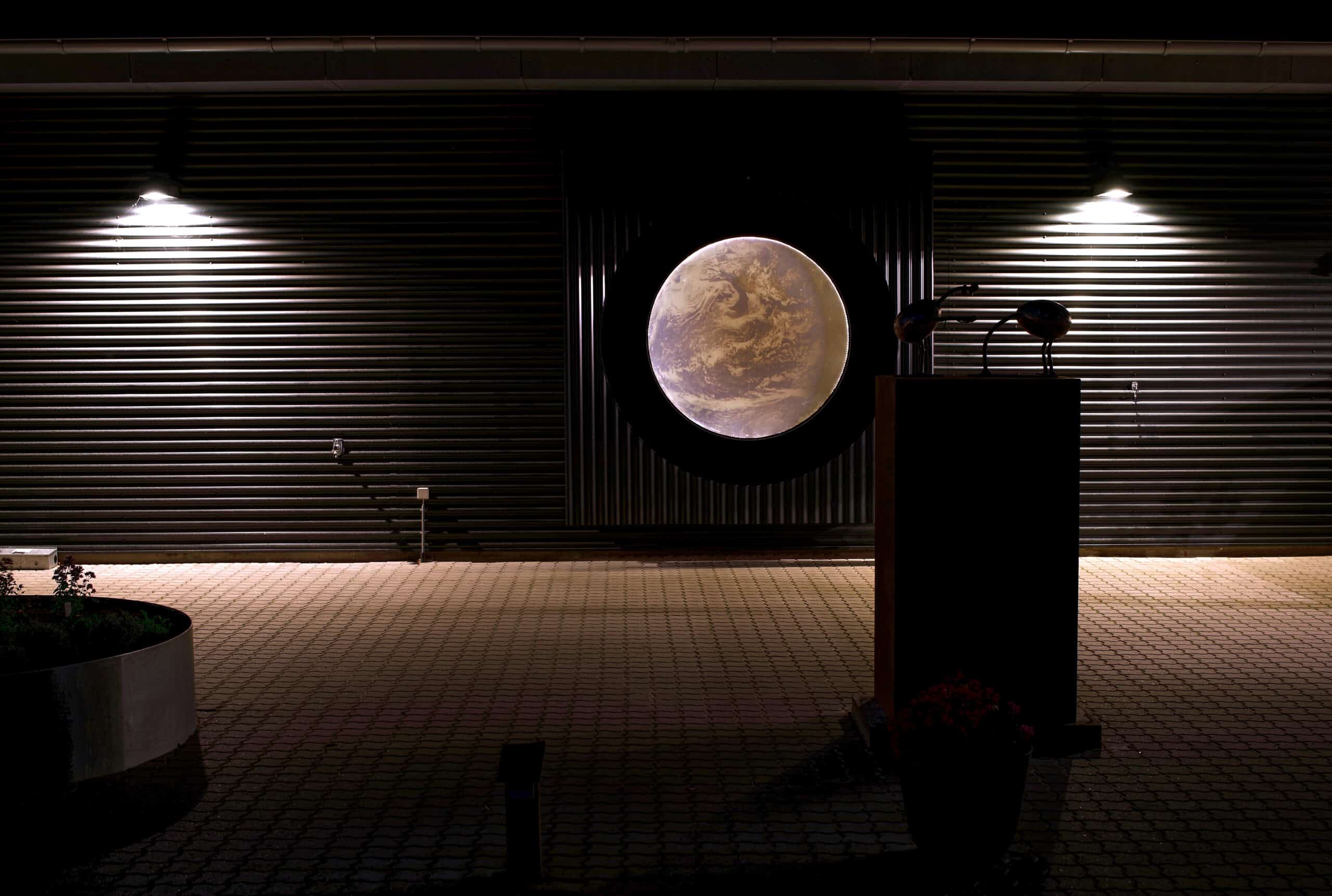 THE FIRST SOLAR SIGNBOARD .
Dansk Solenergi, a Danish building-integrated PV specialist, has launched a round, 95 W solar module that works as a PV signboard. Its 35 solar cells, which remain hidden behind an image of Earth.
The round solar panel with a picture will be constructed by Danish Solar Energy in Holeby on Lolland in close collaboration with the artist Bo Karberg. We are facing a major energy challenge in the world and Danish solar energy ApS proposes clean energy without energy transport losses. The energy transitions means that any surface can generate energy, whit Our smart solution generation will near to the consumer. In the future, the construction elements will be energy generators, solar integration is key to energy independence.

SUSTAINABLE SLATE ROOF (BIPVs)
Slate roofs with our optional gray energy modules and with built-in mounting system, make it incredibly easy to install and at the same time produce energy. This solution is excellent for all residential properties where you want a slate roof, our solar slate combines traditional roof systems and solar energy in one.
SUSTAINABLE TILE ROOF (BIPVs)
Our red tile modules, replace the existing roof or are fully integrated with the surrounding tile, with our mounting system so that the expression of the tile roof is fully preserved, while at the same time producing electricity, and reducing electricity costs.
ARCHITECTURAL PROJECTS CUSTOM DESIGN FOR ARCHITECHS (BIPVs)
Solar energy is now beautiful and ecstatic, solar BIPV for architectural solutions for buildings, houses and infrastructure. Colored solar with high performance, affordable and elegant. .
Our ® patented aesthetic solar modules, produced in Denmark, are probably the greenest and best in the world, in terms of colors, efficiency, quality and CO2 emissions thanks to our LCA we have been able to optimize our production optimally. Now solar energy
can be beautiful and aesthetic and even tall buildings can produce for their own consumption while maintaining the desired aesthetics. For European customers, saving long delivery times can simultaneously reduce global CO2 emissions and
avoid unexpected problems with EU tariffs
Solar energy can be used now in Listed buildings, churches and all this places there were not aloud to use, the aesthetic aspect and the view were
affected by solar energy,
We love innovation and design, and we have the
world's most advanced factory to support development and production of new innovative ideas. We can help you to analyse and design the solution that fits exactly your need.
Now solar energy gives you the opportunity to create art and give new architectural possibilities. Imagine a building with a designed artistic schema.
If you are looking for innovation and creativity, we are the right partner for you.
ANOTHER APPLICATIONS FOR THIS TECHNOLOGY
Electric mobility is the future, the advantage of producing energy in the vehicles with our technology, will improve the efficiency and keep aesthetics, key factors for the important players in future.

If you are looking for innovation and creativity, we are the right partner for you. We love innovation and
design, and we have the world's most advanced factory to support development for new innovative ideas. We can help you to analyze and design the solution that
fits exactly your need.
With colors that let them fit into the surrounding environment, solar parks will have a less optical
impact for the permits required due to the
visual impact will be avoided, our technology lets solar parks don't disturb the optical view and people will be open to having green energy fields in their own area.
This solution will make solar parks welcome in the communities On the other hand, we can make
mosaics art or design to make beauty the view.
In the future roads and infrastructures will generate energy, the energy will be generated where it is needed, therefore it is so important that the solar cells adapt themselves to the environment, protecting the view and also can be an element of decoration when it is required.
Contact Us.
Dansk Solenergi ApS
Danish Solar Energy Ltd.
Flensbjerg 8
4960 Holeby
Denmark